When:
June 23, 2018 @ 7:00 pm – 10:00 pm
2018-06-23T19:00:00-04:00
2018-06-23T22:00:00-04:00
Where:
Venue Naples
13240 Tamiami Trail N #205
Naples, FL 34110
USA

Join us for a night of food and fun with a sensational show by world renowned Wayne Hoffman!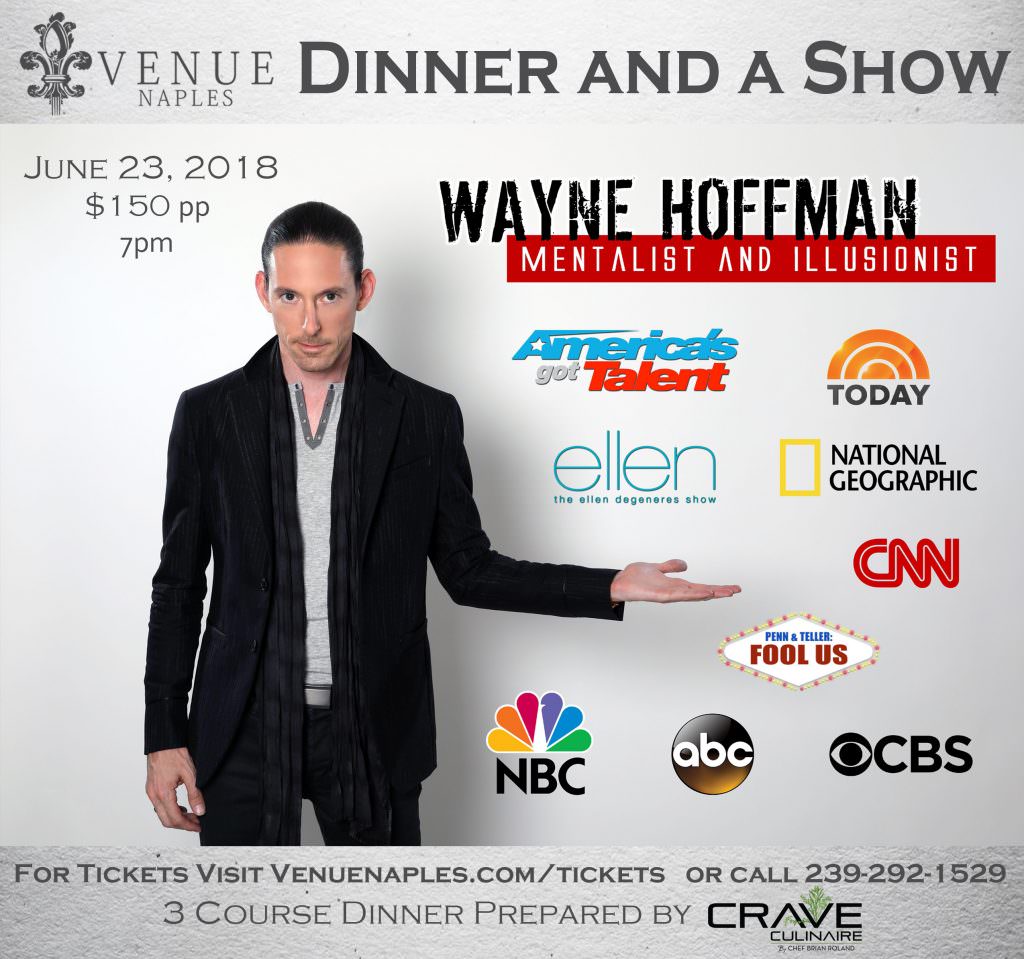 Multi-award winning performer Wayne Hoffman is recognized as one of the top mentalists in the world. He currently tours the world with his stage show "Mind Candy" and his motivational speech, "The Power and Potential of The Human Mind." He is also the author of the best-selling book "Mind Candy."
Wayne's passion for the mysterious was sparked at a young age and lead him to study the art of magic. Later, through extensive self-studies in sociology, psychology, and human behavior, Wayne was able to develop the foundation of his skills today. He now travels the world performing and speaking for exclusive events, theaters, cruise ships, television, casinos, universities, and top corporations.
Wayne' s show is a high-energy presentation that involves body language, human behavior, and visual magic that will make your head explode. The audience experiences seemingly supernatural phenomena in a fun and upbeat way. Wayne continues to be acknowledged as one of the top speakers in his field and wows audiences with his combination of magic and psychology.
He was featured on America's Got Talent, The TODAY show, NBC's hit TV show "Phenomenon", The Glenn Beck Show, TLC, Animal Planet on The Discovery Network, France's Got Talent, Britain's Got Talent, The Ellen Degeneres Show, Beverly Hills Pawn, "The Numbers Game" on National Geographic, CNN Money, "Oddities" on The Science Channel, HARRY (hosted by Harry Connick Jr.), TV Asahi, Fuji TV, TBS in Japan, Yahoo! Finance, and countless radio shows in the US and Canada. Wayne even fooled Penn & Teller on their show "Fool Us." Wayne has performed for thousands of audiences in some of the most elite venues across the world.