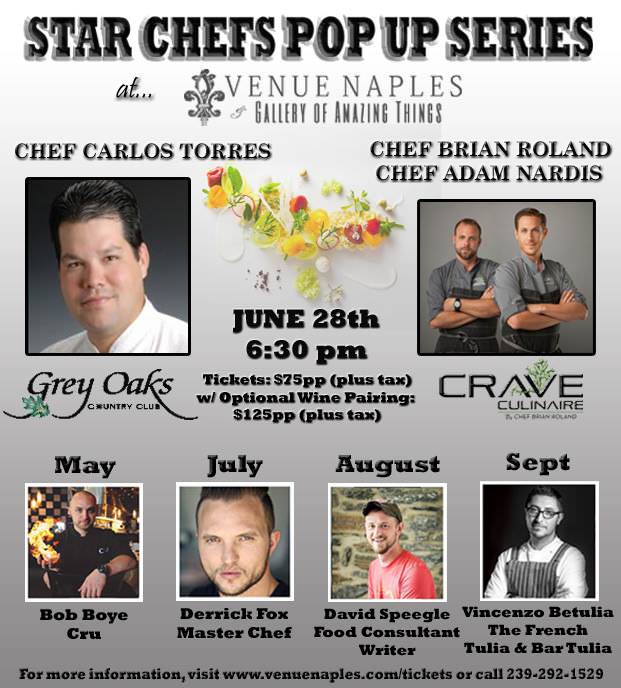 Naples, Florida, June 27th, 2017—High-end event space and art gallery, Venue Naples announces its Star Chefs Pop Up Series, featuring top chefs in the industry. The next pop up event will be held on Wednesday, June 28th at Venue Naples, located in North Naples, and will feature Grey Oaks Country Club chef, Carlos Torres.
Each month, Venue Naples (www.venuenaples.com) invites a leading chef in the industry to create an inspiring menu, showcase their unique culinary crafts, and present it to guests using an immersive experience in an intimate setting. Torres is a veteran chef, perfecting his expertise in a variety of high end hotels and country clubs, delivering quality and excellence to exceed guests' expectations. With over 15 years in the industry, Chef Torres has worked in some of the finest luxury resorts and private member clubs and together with his team of experts, has made a name for himself as a renowned chef in the area.
The Star Chefs Pop Up Series will feature three more chefs this summer, Chef Derrick Fox from the hit TV show Masterchef in July, Food Consultant and Writer David Speegle in August and The French, Osteria Tulia and Bar Tulia Chef-Partner, Vincenzo Betulia in September. The series is hosted at Venue Naples and the Gallery of Amazing Things, an upscale event space and art gallery, providing the unforgettable experience to guests through innovative design, thoughtful expression and top level event planning. Owner of Venue Naples and Executive Chef of Crave Culinaire, Chef Brian Roland remarks about this amazing event series.
"The [Star Chefs] Pop Up Series is an avenue where expert chefs in their fields can take the stage and showcase their abilities and talents. This intimate setting is like no other, and we can't wait for our guests to experience it," he says.
Tickets for this event can be purchased at www.venuenaples.com/tickets or by calling (239) 292-1529.
About Venue Naples
Venue Naples is a fully customizable, multi-use event space and art gallery incorporating fine dining and exquisite service. The mission of Venue Naples is to create an environment that transitions into an experience, allowing clients to create a variety of social and corporate events. This will be paired with the food, wine and service of Crave Culinaire exclusively. Crave Culinaire is driven by the pursuit of excellence, immaculate presentation and breaking boundaries to create the ultimate dining experience by igniting their passion for food in others. Venue Naples is the outlet for this experience. A space where, if you can dream it, we can create it.