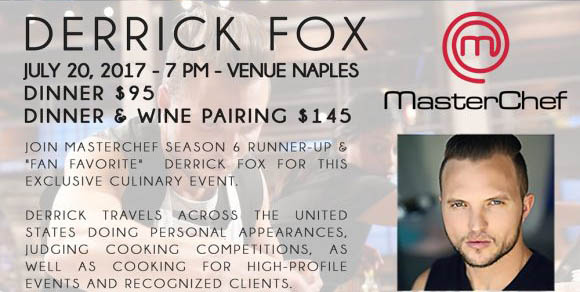 Naples, Florida, July 11th, 2017—Upscale event space, Venue Naples announces that Derrick Fox, a contestant on the TV show MasterChef will be featured in the next Star Chefs Pop-Up Dinner Series on Thursday, July 20th at 7 PM. The series is hosted at Venue Naples, located in North Naples, and features top chefs in the industry each month.
Fort Myers native, Fox (formerly Peltz), got his start as a professional drummer, touring with some of the biggest acts in the country. Living in Los Angeles for ten years, Fox didn't begin his career in food until late 2014 when he entered for his chance to be on the hit TV series, MasterChef. Through his artistic take on food and winning personality, Fox was a fan favorite on Season 6 of the series, and upon coming in as runner up on the show, Fox's career was catapulted into stardom as he's gotten the chance to tour across the country making personal appearances and judging various cooking competitions.
Venue Naples (www.venuenaples.com) and Crave Culinaire (www.craveculinaire.com) team up to bring guests the ultimate dining experience and Chef Derrick's legendary pop-up dinners not only leave the crowd wowed, but allow guests to enjoy first-class cuisine, fused with rock and roll style. Chef Brian Roland, Owner of Venue Naples and Executive Chef of Crave Culinaire, sheds some light on what to expect from Fox at their next Star Chefs Pop-Up Dinner Series.
"Derrick [Fox] brings the party. His rock and roll background and risk-taking attitude in the culinary arena make him a force to be reckoned with. We are beyond excited to have him at Venue Naples and can't wait to see what he'll be cooking up," he says.
Tickets for this event can be purchased by visiting www.venuenaples.com/tickets.
About Venue Naples
Venue Naples is a fully customizable, multi-use event space and art gallery incorporating fine dining and exquisite service. The mission of Venue Naples is to create an environment that transitions into an experience, allowing clients to create a variety of social and corporate events. This will be paired with the food, wine and service of Crave Culinaire exclusively. Crave Culinaire is driven by the pursuit of excellence, immaculate presentation and breaking boundaries to create the ultimate dining experience by igniting their passion for food in others. Venue Naples is the outlet for this experience. A space where, if you can dream it, we can create it.