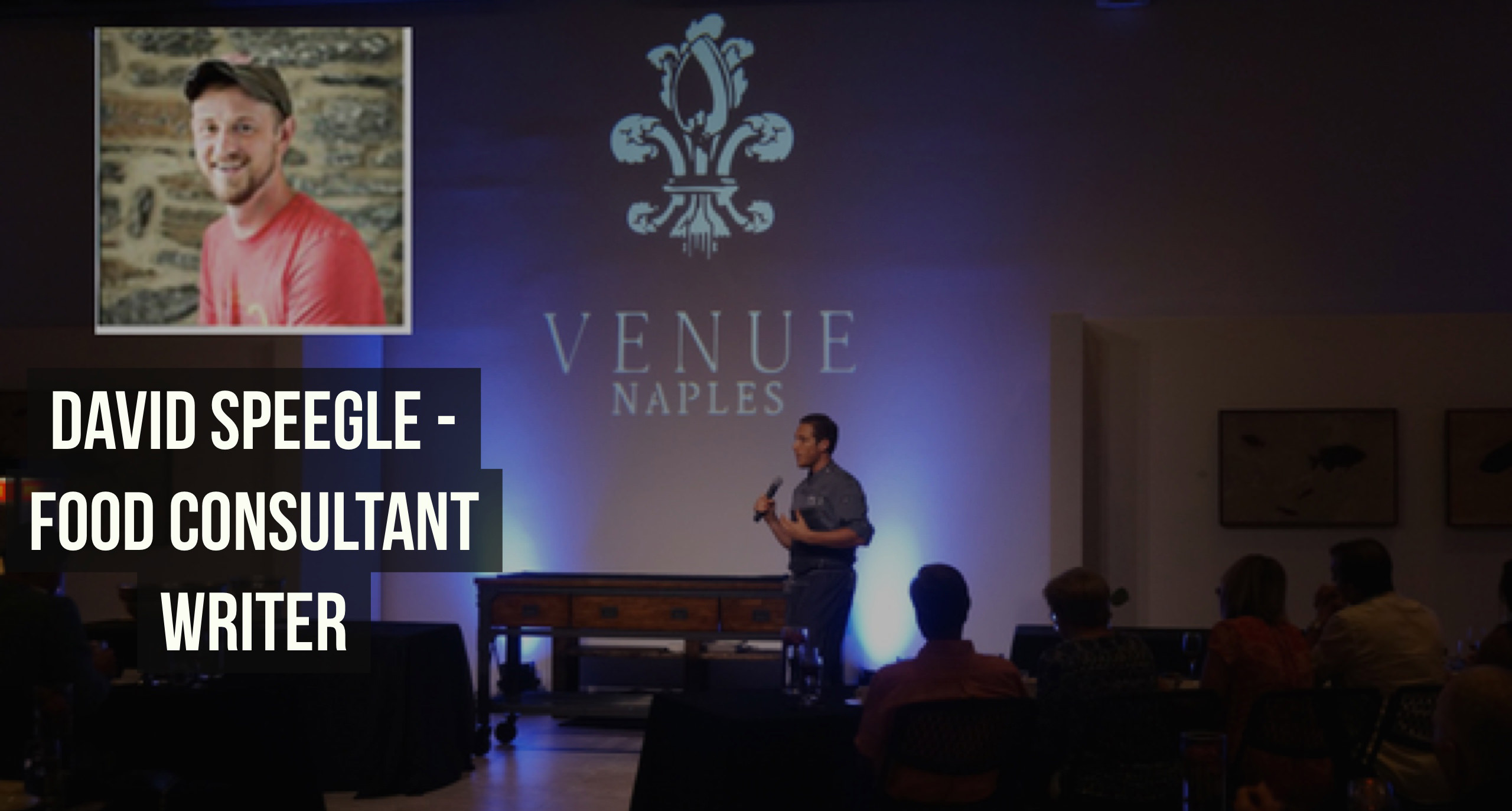 Naples, Florida, August 8th, 2017—Venue Naples, North Naples' premier event space and art gallery announces that Food Consultant and Writer, David Speegle will be featured in its Star Chefs Pop-Up Dinner Series on Thursday, August 17th at 6:30 PM. This monthly series features top chefs in the industry, dazzling guests with culinary dishes for an evening of wonder and delight.
Speegle, a Tennessee native, has had the opportunity to work at various upscale restaurants and resorts, such as the Marriott International in Nashville, Roy's Hawaiian Fusion Cuisine and Grand Cru in Baltimore. He is currently a banquet chef with Pendry Hotels in Baltimore, Maryland. Speegle's passion is in local, sustainable food. He strives to unite regional farmers and other local food producers with the community, and seeks to maximize the value of our food system here in Florida, taking advantage of seasonal foods, and utilizing them in his dishes. He hopes to create a greater interest in serving sustainable foods in Southwest Florida.
Venue Naples (www.venuenaples.com) got its start by Chef Brian Roland, Owner and Executive Chef of Crave Culinaire (www.craveculinaire.com), which showcases immaculate culinary delights, fueled by the passion to create the ultimate dining experience and utilizes innovative techniques, paired with fresh, local ingredients. Venue Naples seeks to provide a guest experience like no other and the Star Chefs Pop-Up Dinner Series does not disappoint.
"Showcasing these unique and innovative chefs stirs up an excitement and passion that we look forward to month after month. David [Speegle] has a great message to really utilize fresh, locally-grown ingredients and I think that's really important to the culinary field. We are looking forward to having him at Venue Naples," says Roland.
Dinner will include an up close and personal demonstration with the chefs and a multi-course tasting menu, with guest appearances by U.S. Olympic Downhill Skier, Abilgail Murer and Mike Anderson of Daniel Cohn Wines. Tickets can be purchases by visiting www.venuenaples.com/tickets.
About Venue Naples
Venue Naples is a fully customizable, multi-use event space and art gallery incorporating fine dining and exquisite service. The mission of Venue Naples is to create an environment that transitions into an experience, allowing clients to create a variety of social and corporate events. This will be paired with the food, wine and service of Crave Culinaire exclusively. Crave Culinaire is driven by the pursuit of excellence, immaculate presentation and breaking boundaries to create the ultimate dining experience by igniting their passion for food in others. Venue Naples is the outlet for this experience. A space where, if you can dream it, we can create it.