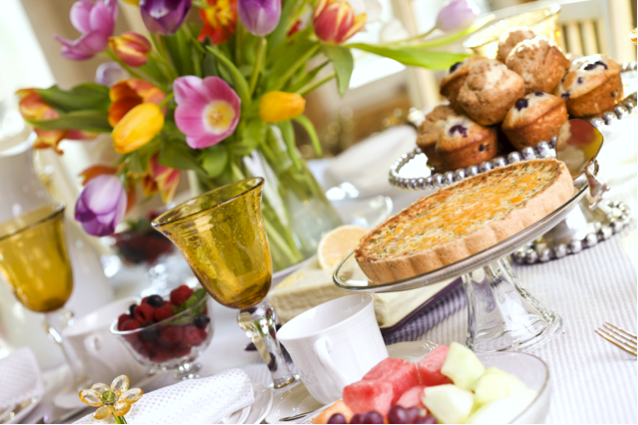 Celebrate Easter the best way this year, with brunch! Easter is a time to sit down with family, enjoy some delicious food, and take part in Easter activities. When planning a brunch, you want it to be distinctly different from a planned breakfast or lunch. Brunch is about having fun with a mix of appetizing foods. When hosting an Easter brunch you'll have the opportunity to have a lot of fun with the decorations, entertainment, and food presentation. Read on for our top tips and tricks for planning the perfect Easter Brunch.
Planning is Key
Easter is typically a jam-packed day, especially in the morning. Make sure your brunch fits seamlessly into your guests' plans. Talk to everyone and set up a schedule, make sure it's set around their religious services if they're planning on attending. Planning ahead ensures that your brunch with flow perfectly.
Setting the Mood
You already have the Easter theme, but it doesn't have to be filled with pastels and bunnies. Place fresh lilies and tulips as a table centerpiece surrounded by china, silverware, and cloth napkins along with place cards. Dress up the table with metallic painted eggs and vases that bring some fun personality to the event.
Preparing the Easter Dishes
Finding the perfect Easter brunch recipe is crucial for a successful holiday brunch event. Rather than your typical Easter brunch ideas, like bunny shaped cakes, store bought ham, and scrambled eggs, we recommend stepping outside the box with fun and flavorful options like lemon ricotta pancakes, stuffed French toast, and coffee cake. Make sure you're appealing to all guests. Offer meat dishes such as lamb chops paired with a baked mac and cheese casserole along with a one-pan egg and turkey skillet. Keep passed plates circling; fruits, cheeses, chocolates, and assorted nuts.
Easter Brunch Drinks
A great drink is the cherry on top of a delicious meal. You will want to offer alcoholic and non-alcoholic drinks for your brunch to accommodate everyone and if you're expecting children to attend. Serving them in their appropriate glass wear and showcasing them in bowls, jugs, and jars can add even more personality to your brunch. Here are a few drink ideas that can be done with or without alcohol:
Mimosa: synonymous with brunch and can be done with virgin champagne
Blackberry and cherry vanilla smoothies: delicious and a healthy alternative to many desserts you'll be serving
White sangria: is a light and refreshing drink that will look beautiful on the Easter table
Lavender lemonade: lemonade is the perfect drink for a spring day and adding lavender to it gives it a floral spring flavor
Easter brunch is an exciting event to have fun with family and friends. Hosting the perfect Easter brunch can be a big undertaking but if you plan it out correctly you can have a lot of fun with the event and celebrate the holiday in style!
Venue Naples and Crave Culinaire have wowed guests at countless parties and events. For more helpful information on event planning, please visit our website https://www.venuenaples.com/ or contact us at (239) 292-1529.