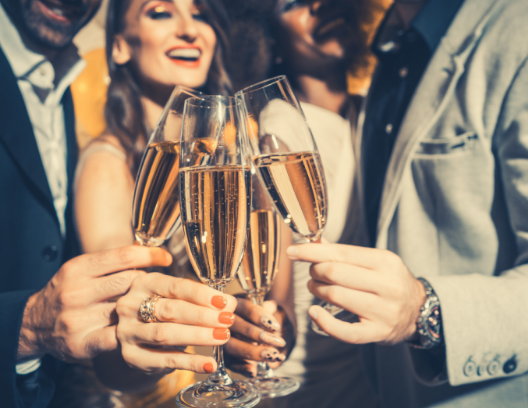 One of the biggest parties of the year is upon us. New Year's Eve is a night to celebrate the past year's successes and look forward to the New Year and all of the promises and opportunities that lie before us. It's also a time to have fun, dress to impress and enjoy spectacular entertainment and delectable food. When it comes to planning your New Year's Eve party, it's best to have a theme to tie it all together. We're here to show you that ringing in the New Year in style is easy with these killer party trends!
Masquerade Ball
A decadent masquerade ball emits glamour and magic, and is one of our top picks when it comes to ringing in the New Year. When planning your ball, spice up the décor with elegant pieces, designed to attract and delight your guests, such as:
Candelabras

Candles galore

Draperies

Feathers

Beads
Have your guests don their best attire, complete with masks to add an air of mystery to your soiree. Serve sophisticated finger foods, such as caprese skewers or stuffed mushrooms, and be sure to keep with the theme with music from a string quartet or light classical pieces playing in the background. This added ambiance will really set the tone of your event.
New York City Glamour
There's nothing quite like the excitement in New York City on New Year's Eve, so why not bring a piece of Times Square to your party? A ball drop and live entertainment can turn your New Year's Eve party into a special evening. Add fun elements to the event…New York City is teeming with exciting things to do. Try a photo booth for a fun way for guests to interact during your party.
Vegas Casino
Break out the poker chips for this event! A casino theme is all about entertainment, flowing drinks and delicious bites. You'll want your guests to be involved and interacting with each other, so having games to partake in is key. Offer such Vegas staples as poker, roulette and blackjack to get the party started and be sure to include a signature cocktail and passed bites throughout. Go the extra mile and make it a black and white affair. Your guests will be exited for an evening of games and fun, while ringing in 2019.
A Green Affair
We've saved the best for last. Going green this New Year's Eve is among the most popular ways to ring in the New Year. Little things, like electronic invitations, as opposed to paper invites and serving organic food and drinks help to save the environment. Want to get a little more out of your eco-friendly event? Have your guests write down how they plan to try and help the planet for their New Year's resolutions. Now that's a resolution worth keeping.
Your New Year's Eve Soiree
Whether you're looking to host an elegant ball or a fun game night, make it an evening that your guests will never forget. Welcome 2019 and say goodbye to 2018 with lasting moments that will make you smile. It's time to celebrate the New Year in style.
From large soirees to intimate events, Venue Naples is equipped to wow your guests and help you create memories that will last a lifetime. Call (239) 292-1529 or visit www.venuenaples.com to learn more!