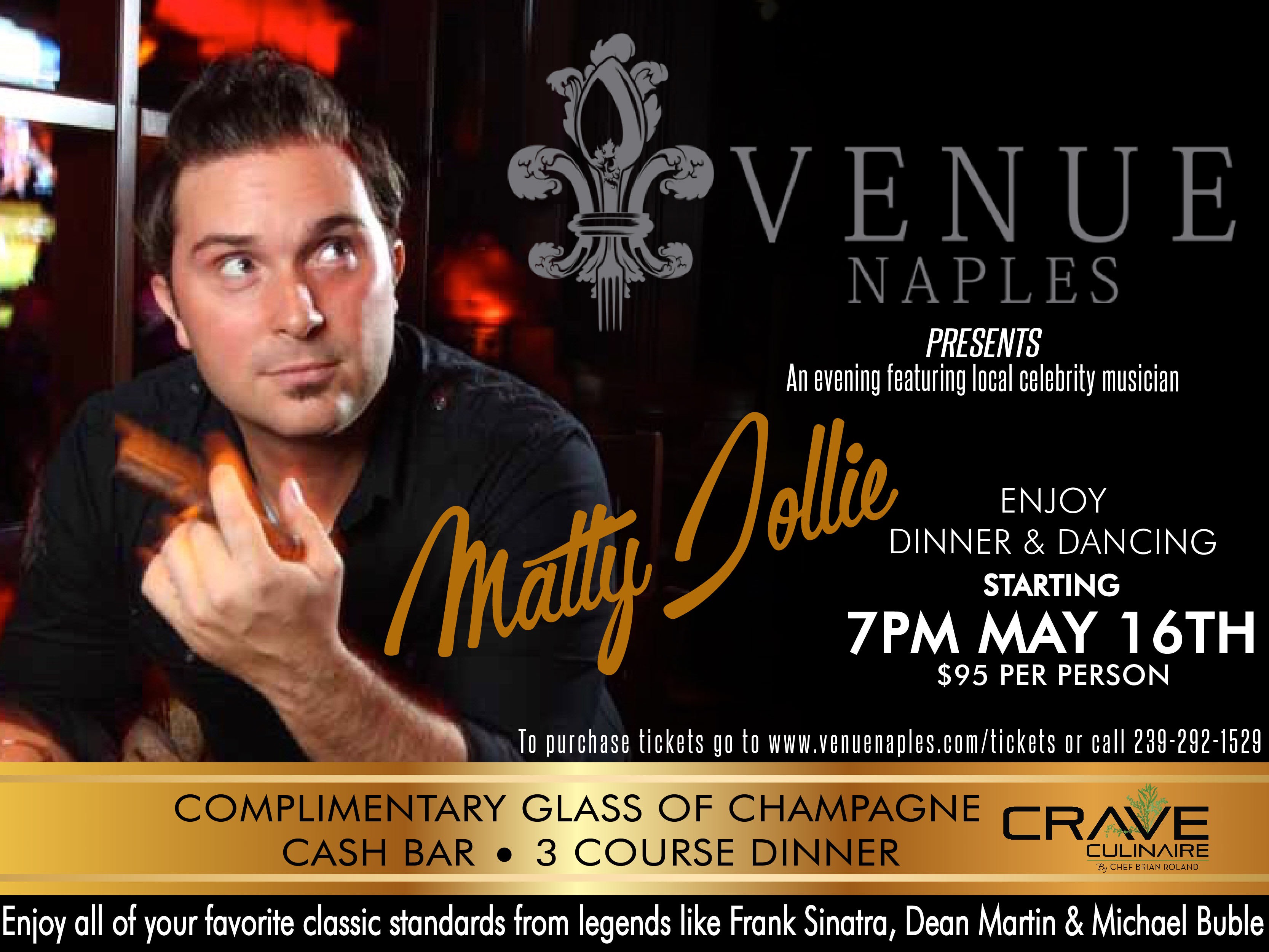 Naples, Florida, May 2nd, 2017—Premier event space, Venue Naples announces its Evening with Matty Jollie, which will be held on Tuesday, May 16th at 7 p.m. Featuring favorites by classic legends, Frank Sinatra, Dean Martin and Michael Buble, the event will also include a three-course dinner, complimentary glass of champagne, cash bar and more. Tickets can be purchased at www.venuenaples.com/tickets for $95 per person.
Venue Naples is home to many exciting events this month, including Stay in May's "Top Chef High School" which showcases four of Collier County's public schools in a unique meet and greet tasting experience.  Chef Brian and the Crave Culinaire team will be welcoming these talented, up and coming students on May 2nd at 7 p.m. as the students and instructors pair jazz music and food from different areas of the USA.  Tickets are available at www.stayinmay.com for $25 per person.
On May 7th at noon, the Gallery of Amazing Things will be hosting the Bnai' Mitzvah Expo, which will be held at 481 South Federal Highway, Dania Beach, FL.  This FREE event for parents and their kids will help you to make your celebration everything it can be and so much more. Learn the latest in Mitzvah trends from the professionals and meet dozens of vendors face-to-face. Explore a wide variety of party goods and services including Catering, Design & Décor, Invitations, Party Favors, Entertainment, Photographers, Videographers and more. Tickets available at www.galleryamazing.com.
"Cheese Please" the Adopt an Alp Cheese & Wine Tasting will be held on May 18th at 7 p.m. This unique program that the Crave Culinaire team has embarked on with some exclusive cheese producers throughout the Swiss Alps will feature a tasting and lecture by world-renowned Caroline Hostettler, "The Cheese Lady." This event will be held at Venue Naples, 13240 Tamiami Trail North, Suite 205, Naples, FL 34110.  $75 per person (tickets will be available soon at venuenaples.com/tickets).
And finally, Crave Culinaire's Pop Up Dinner Experience will be held on May 31st at 6:30 p.m., and will feature Team Crave's most unique summer menu offerings.  This five-course food and wine experience will wow your senses and tantalize your taste buds! (Tickets will be available soon at venuenaples.com/tickets).
Be sure not to miss the exciting events happening at Venue Naples. Chef Brian Roland, Executive Chef and Owner of Venue Naples is excited for these one-of-a-kind events.
"Being able to host such a wide variety of events to not only excite our guests, but also educate them about our industry is such an amazing feeling. I look forward to the future. Stay tuned," he says.
About Venue Naples
Venue Naples is a fully customizable, multi-use event space and art gallery incorporating fine dining and exquisite service. The mission of Venue Naples is to create an environment that transitions into an experience, allowing clients to create a variety of social and corporate events. This will be paired with the food, wine and service of Crave Culinaire exclusively. Crave Culinaire is driven by the pursuit of excellence, immaculate presentation and breaking boundaries to create the ultimate dining experience by igniting their passion for food in others. Venue Naples is the outlet for this experience. A space where, if you can dream it, we can create it.